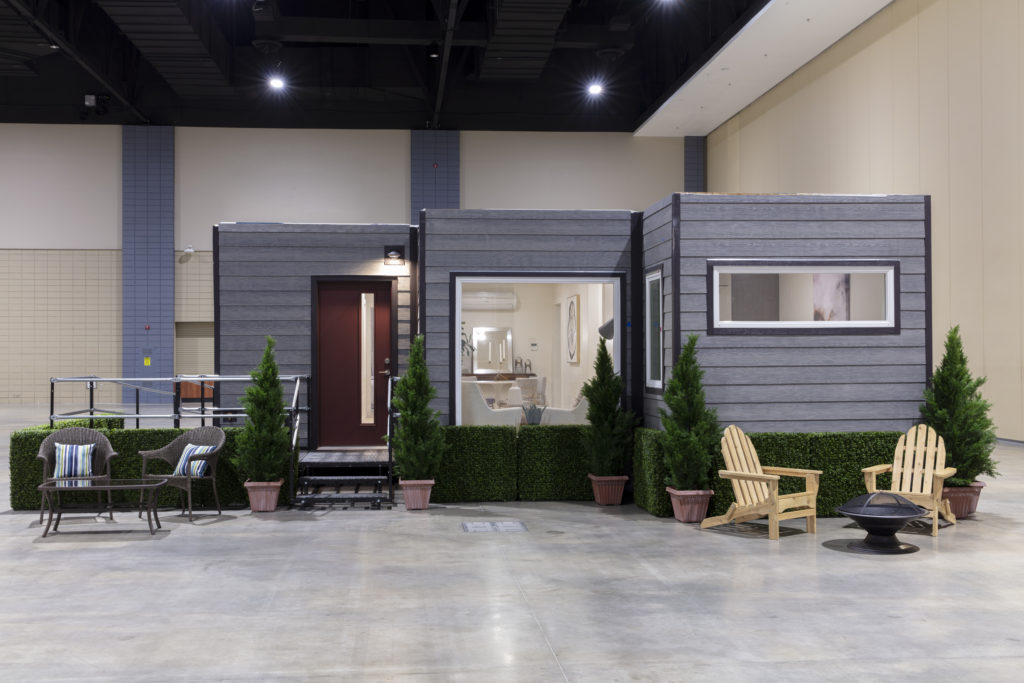 On May 21-22
,  we had the pleasure of staging for the
Housing X: Rethink the Box conference
, a one-day "un-conference" that showcased what's next in affordable housing construction, design, materials, finance and land-use planning. The event was held at the Greater Richmond Convention Center.
VHDA
, the event's lead sponsor, called us to stage one of the events main attractions, a shipping container home manufactured by
indieDwell
.
 indieDwell is an Idaho-based affordable-housing manufacturing company that builds modular homes out of recycled steel shipping containers.  The 960- square foot home, constructed from three shipping containers, was available for a hands-on tour for nearly 300 attendees.
The unit on display was a four-bedroom, 2 bath, single family unit.  It was shipped over 2,300 miles in three pieces by truck and assembled and disassembled  
on-site
in two days. These small steel homes come with many features today's buyers are looking for including: HardiePlank® siding, hardwood floors, quartz countertops, and stainless-steel appliances. Buyers looking to limit utility bills will likely be drawn to the energy efficiencies that come will the all-electric home, such as
ENERGY STAR rated
 windows and appliances. Once assembled, the final product is considered a turn-key permanent structure, and not a manufactured home. 
Watch this time-lapse video by Cade Martin Photography to see the full assembly of the container home at the Greater Richmond Convention Center:
The potential use of container home construction for both single-family and multifamily use could open the door for more housing options for Virginians. In fact, after the conference,
VHDA plans to donate the unit
to
project:HOMES
Project Homes
, a Richmond-based nonprofit addressing affordable housing, where it will be sold to a low-income homebuyer in South Richmond.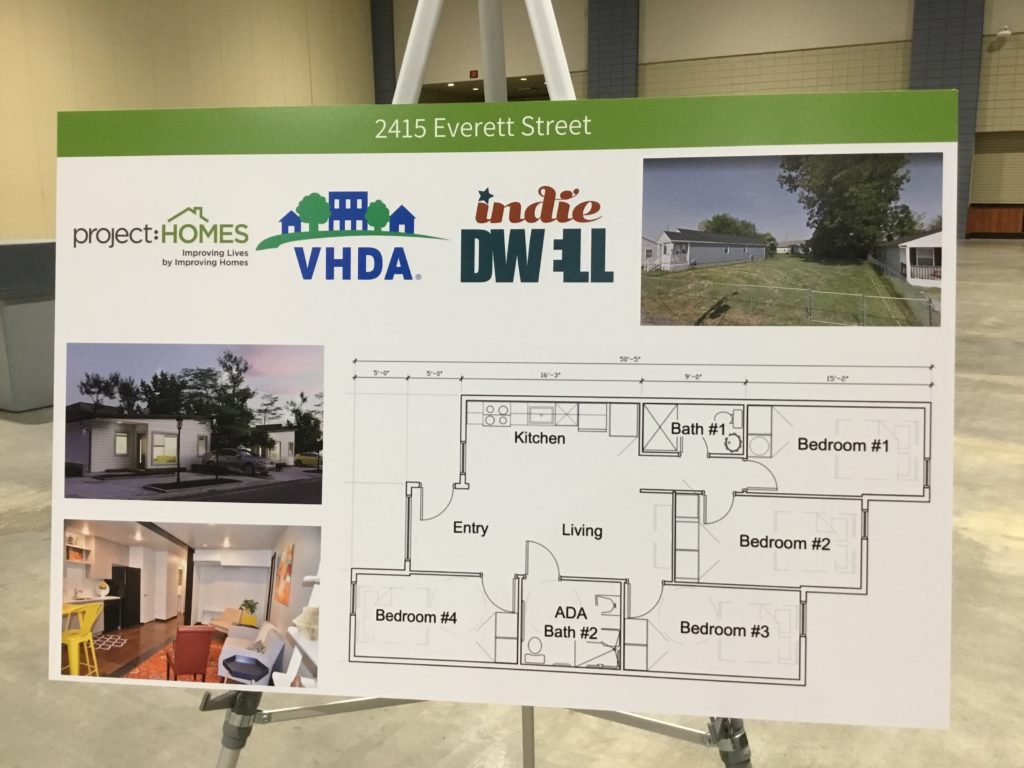 When VHDA called us about staging this unit we were thrilled, not only because this was a unique opportunity, but more so to support VHDA and their mission to help Virginians attain quality, affordable housing. Our 
Stage for Hope program
 addresses affordable housing in RVA by donating ten percent of
our
your
staging revenue to Richmond Metropolitan Habitat for Humanity.  Affordable housing is part of our mission and this was our opportunity to literally "Stage for Hope".
Unlike
our traditional staging projects, we were not staging to attract a potential buyer, but to showcase the container home's features and the lifestyle it offers to prospective residents. The modular structure of the container home called for a minimal modern ascetic, which we excel at. We made sure each bedroom served a different purpose. So instead of four bedrooms, each with a bed and nightstand, we staged a master bedroom, kid's room, office and entertainment room. And of course, we staged the common area with a living/sitting area and dining area.  Each room was approximately 8 by 11 and came with built out closet space. We kept furnishings clean and simple and focused on stylish functional pieces and less on accent furniture.
But that doesn't mean we skimped on beautiful things or large-scale pieces. We used large scale art throughout the home to bring in color and character. We also used some emotional connection pieces like this vintage RVA map to rep our city. We combined beauty with function with beautiful leather tufted ottomans which served as both a coffee table in the sitting area and additional seating in the office.
All in all, we were able to showcase how a container home could provide a small sustainable lifestyle with all the amenities. If you want to see the 3D Matterport walkthrough Click here
We had an awesome time working on this project and learning about container homes as affordable housing options in Virginia and beyond. We can't wait to see this home in our city and to see how the new owners enjoy their new home!
On May 21-22,  we had the pleasure of staging for the Housing X: Rethink the Box conference, a one-day "un-conference" that showcased what's next in affordable housing construction, design, materials, finance and land-use planning. The event was held at the Greater Richmond Convention Center. VHDA, the event's lead sponsor, called us to stage one of […]